Businesses today are leveraging cutting-edge mobile technology to streamline their business operations and stay connected. Enterprise mobility solutions are required to grow business substantially in this digital era. 'Enterprise Mobility' refers to automating your business processes through mobile devices and encouraging employees to complete the task anywhere and anytime.
The Enterprise mobility market is expected to see tremendous growth in 2020. The enterprise mobility solution connects employees, suppliers and customers through a single platform and enhances business opportunities. To reap maximum benefits, the enterprise mobility solution should be aligned with your business goals. UX is critical to the success of enterprise mobile application. When developing an application utmost importance is given to user experience. More and more organizations have started investing in feature-rich enterprise mobile apps to redefine their business.
How Enterprise Mobility can benefit your business?
Mobilizing your business can bring in the following advantages:
Increase employee productivity
Optimize business operations
Expand the business outreach
Accessible anywhere anytime.
Improved communication
Improved customer service
Real-time access to data
Increased ROI
Prior to implementing Enterprise Mobility Solutions, analysis is done to evaluate the need for mobility solutions.
Present mobile capabilities of the organization
Effect of mobility on the employees and clients
Feasibility study to check if the business functions can be mobilized
End-user analysis
Risks and threats associated with implementing a mobility solution
Business goals to be achieved
While Organizations are in need of enterprise mobility solutions, they face challenges in transforming their idea into reality. If your organization is willing to explore the mobile solution to run the day-to-day business, it would be ideal to bring experts to implement the transformation.
How to develop enterprise mobility solutions?
Identify the requirements of the organization
Outline an approach
Identify the technology platform
Decide between the native and cross-platform approach
Develop the application
Test on different devices
Deploy the solution and launch it on the app store
Our Expertise in Enterprise Mobility Solution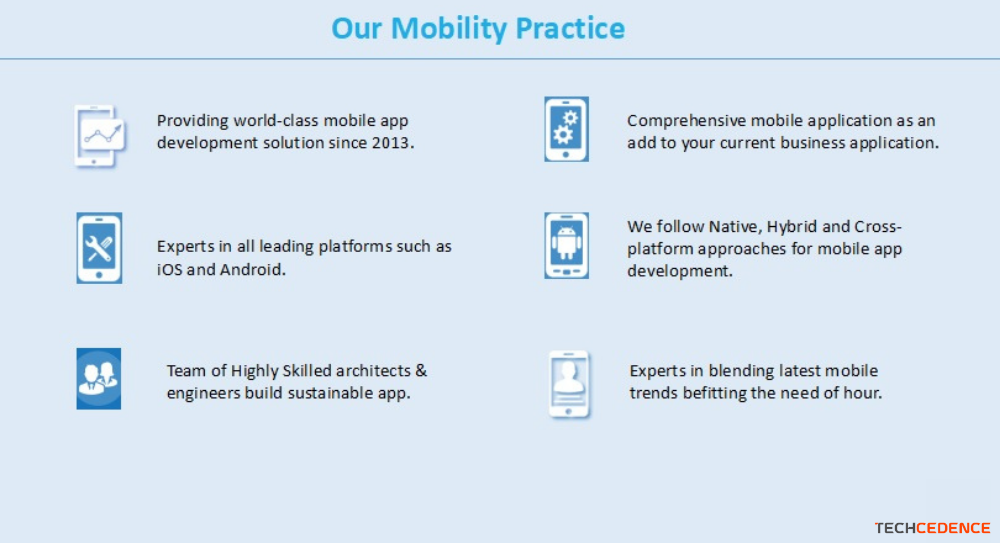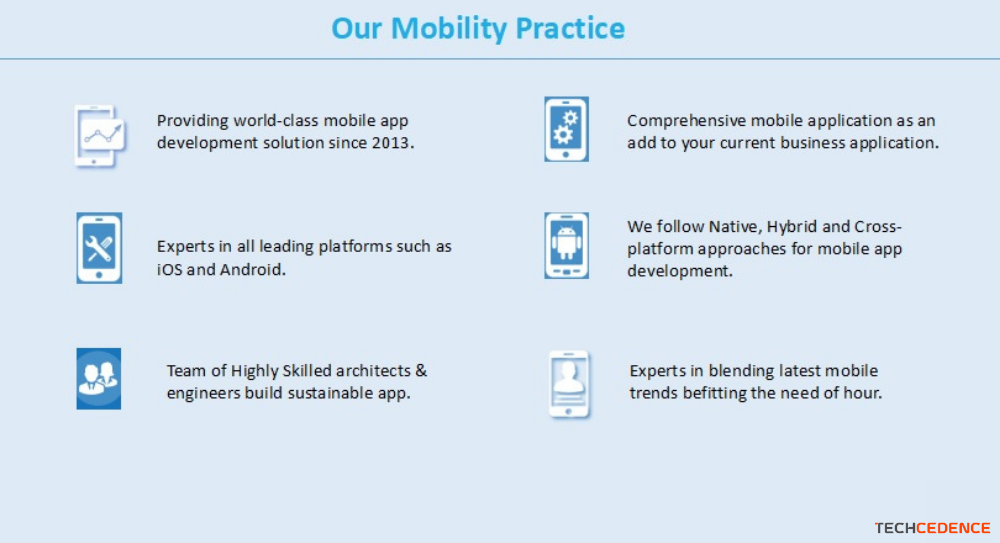 Techcedence has the expertise and skill set in consulting, design and development of enterprise mobility solutions. We adopt a strategic approach to deliver mobility services. Our team of mobile experts has built innovative mobile solutions across different verticals that include Travel, Healthcare, Real Estate, Retail, and Logistics. Our advanced mobile solutions are functionally rich, user-friendly and improve productivity.
Get in touch with us to develop a mobile strategy for your business requirements.