Node.js, a cross-platform and open-source server environment, is known for its benefits like code sharing and reuse, several free tools, optimal speed, performance, etc. It is one of the most used web frameworks, with a developer respondent base of nearly 48 percent. No wonder many companies worldwide look to leverage Node.js!
However, to make the most of Node.js and its benefits, you need the right set of Node.js developers. But how do you do that, and what challenges might you encounter during the Node.js hiring venture? Here's a blog that acquaints you with some.
How to Hire Node.js Developers?
So, how to hire Node.js developers? Here are the steps involved in it.
Create a Proper Job Description
The first step toward hiring the best-suited Node.js developers for your project is writing the right job description. The idea is to set the expectations right to receive applications closely aligned with your requirement.
Specify the Employment Type
The next step is to specify the employment type you intend to offer. It depends on your project requirement. Mentioning the employment type – in-house full-time, contractual, part-time, or freelancing will help you receive applications accordingly.
Not doing so may lead to potential mismatches. You may spend much of your time filtering applications that match your requirement.
Search for the Best-Suited Node.js Developers
The next step is to float the requirement in the employment market, connecting with recruitment agencies and finding the best match for your requirement.
While your specific requirement and recruitment partners will help you receive applications best aligned with your needs, you may still be required to shortlist the best of the lot. Once you do that, the next step, of course, is to interview them.
Design an interview that tests the candidates on multiple parameters like approach, personality, technical expertise, reliability as a professional, etc.
Outsource Node.js Hiring to Experts
Hiring the best Node.js developers can sometimes get complex and time-consuming. Besides, hiring Node.js developers from a particular region may be challenging, especially when you don't belong to it. A smarter alternative to conventional hiring is outsourcing the recruitment part to expert companies.
These companies can serve as comprehensive Node.js development partners, helping you hire the right candidates and end-to-end project completion. Outsourcing helps save costs and time, ensures quick scalability, and helps your focus on your core business.
Benefits of Hiring Node.js Developers?
Here are some advantages of hiring qualified and experienced Node.js developers.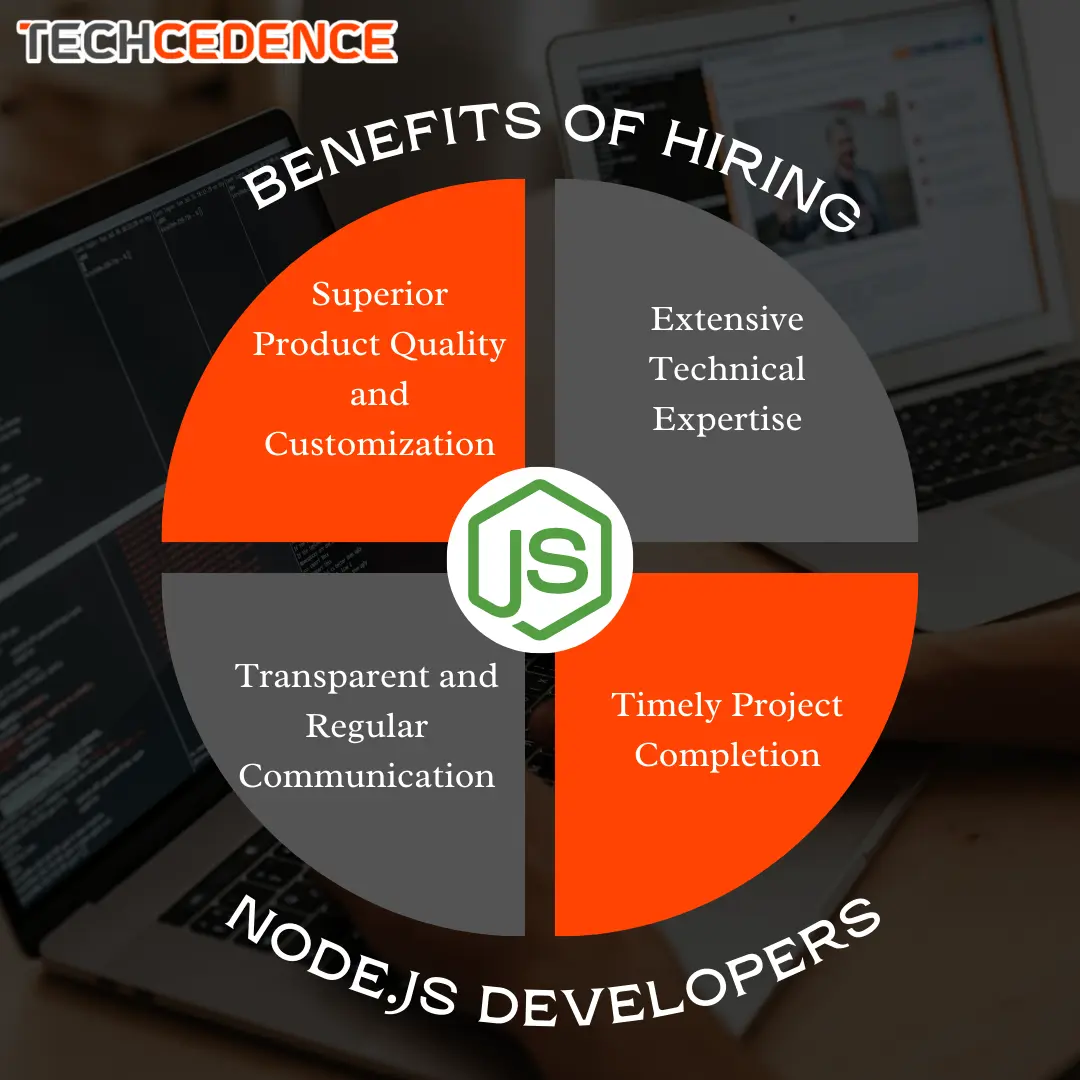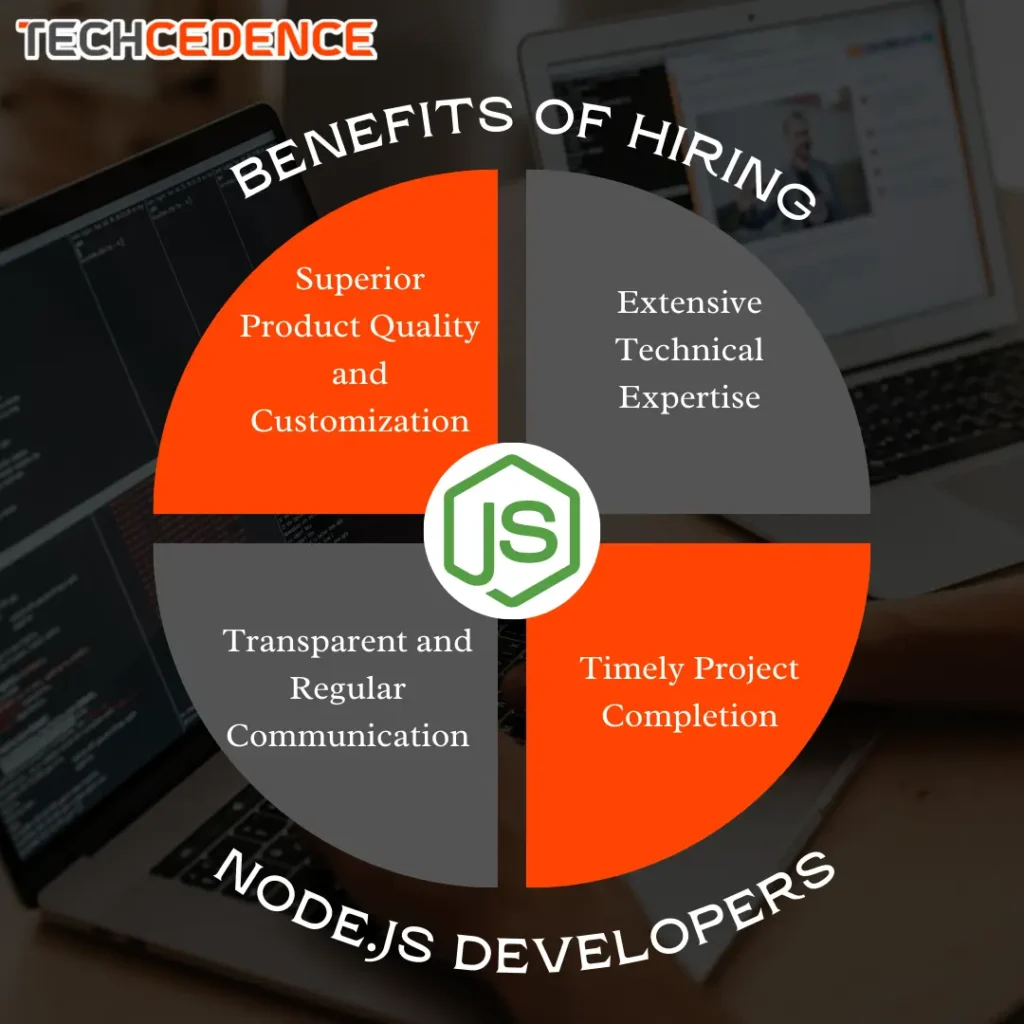 Superior Product Quality and Customization
Expert and seasoned Node.js developers with a comprehensive understanding of client's needs can contribute to better product quality. Besides, their extensive capabilities can help you customize the product to your needs.
Extensive Technical Expertise
Specialist and competent Node.js developers possess extensive technical expertise. They are abreast of the latest technology and trends, and updates in their realm of work. This proves advantageous for companies that hire them. It refers to competent onboarding talent that helps them build resonating applications.
Transparent and Regular Communication
Professional and capable Node.js developers provide regular updates and ensure communication transparency throughout. It helps you, as the employer, or the client, keep track of the project's progress.
Timely Project Completion
This is another significant advantage of hiring professional Node.js developers. Having the right set of dedicated Node.js developers help you ensure timely project completion, and save considerable costs, especially when you hire Node.js developers via outsourcing companies, where the service provider bears the employment costs.
Potential Challenges in Hiring Node.js Developers
Some challenges that you may confront while hiring Node.js developers include the following. Of course, partnering with the right company that helps you find the right Node.js developers can resolve those challenges. But knowing what can impede your Node.js endeavors can help you prepare for it proactively.
Lack of access to a broader pool of Node.js talent
Inability to find the best-suited candidates
Redundant talent acquisition strategies
High hiring costs
Unclear job requirement
Poorly organized interview process and rounds
Looking for Node.js Developers? Hire Them Through Techcedence!
India is one of the world's largest reservoirs of Node.js developers. While scoring high on qualifications and experience, India's Node.js developers are cost-effective and result-oriented. At Techcedence, we can help you hire Node.js developers aligned with your requirement. So, don't struggle with hiring Node.js developers. Hire the right ones effortlessly with us. Please email us at sales@techcedence.com to know more.