Are you looking to hire .NET developers in 2023? Well, you have approximately six million of them worldwide! But hiring those suited to your project and business requirements could seem arduous, as it may involve several challenges. So, how do you hire a team of dedicated .NET developers aligned with your needs? The steps discussed in this blog can help you make the right and informed choice.
What do .NET Developers do?
A .NET developer designs and creates applications with Microsoft's .NET platform. In addition, they participate in various other crucial tasks like deploying, maintaining, backend services, web-based APIs, etc. But along with these tactical skills, .NET developers continuously interact with the project's stakeholders, evaluate the application's performance, and build patches to resolve technical issues.
Challenges Involved in Hiring Dedicated .NET Developers
Let's look at potential challenges you may face while hiring .NET developers.
Many companies have limited access to talent pools. They cannot look beyond a particular group of resources and tend to hire those available within it. Limiting your access could hamper your project, especially if you don't have the talent you need within a particular talent pool. The key is to augment your access and look at broader talent sets available on the market.
Falling for Meager Salary Demands
Often, companies are tight on the development budget bit. Hence, they look for .NET developers with fewer years of experience and lesser salary demands. But that could work against them. Of course, they'll save some money, but the outcome may suffer!
This is another significant challenge and could be a concern, especially with freelancers who work on multiple projects. It could be luring to save money on hiring in-house resources. But project timelines and product quality are equally important.
As a solution, companies must prefer hiring dedicated .NET developers from .NET development companies with an abundant positive reputation.
Culture, as a hiring aspect, is either ignored or kept aside as an afterthought. But ideally, that shouldn't be the case. Technical skills matter. But what if a particular developer doesn't fit well within the company and impedes the project directly and indirectly?
Agreed, there's always some element of cultural risk involved in hiring resources. But a thorough evaluation and thoughtfully designed interview rounds could mitigate the risk.
Benefits of Hiring Dedicated .NET Developers
Why should you emphasize hiring .NET developers? Here are some reasons.
Dedicated developers obviously refer to full-time availability. You do not have to chase the developers for an update or to get something done. The team remains at your disposal during the project hours, thus offering you peace of mind.
Speedier Development and Better quality
When your team of .NET developers dedicatedly works on your project, you can complete the development part relatively quickly and deliver better quality. It could also help reduce your time to market, enabling you to launch your application on time.
End-to-End Project Management
With a steadfast development team on your side, you can enjoy end-to-end project management from the same set of resources. You don't have to run around or look for a separate team for various aspects of the project.
How to Hire .NET Developers in 2023?
So, how do you hire .NET developers in 2023? Frankly, it involves some efforts in vetting the team on aspects that include but shouldn't be limited to the following.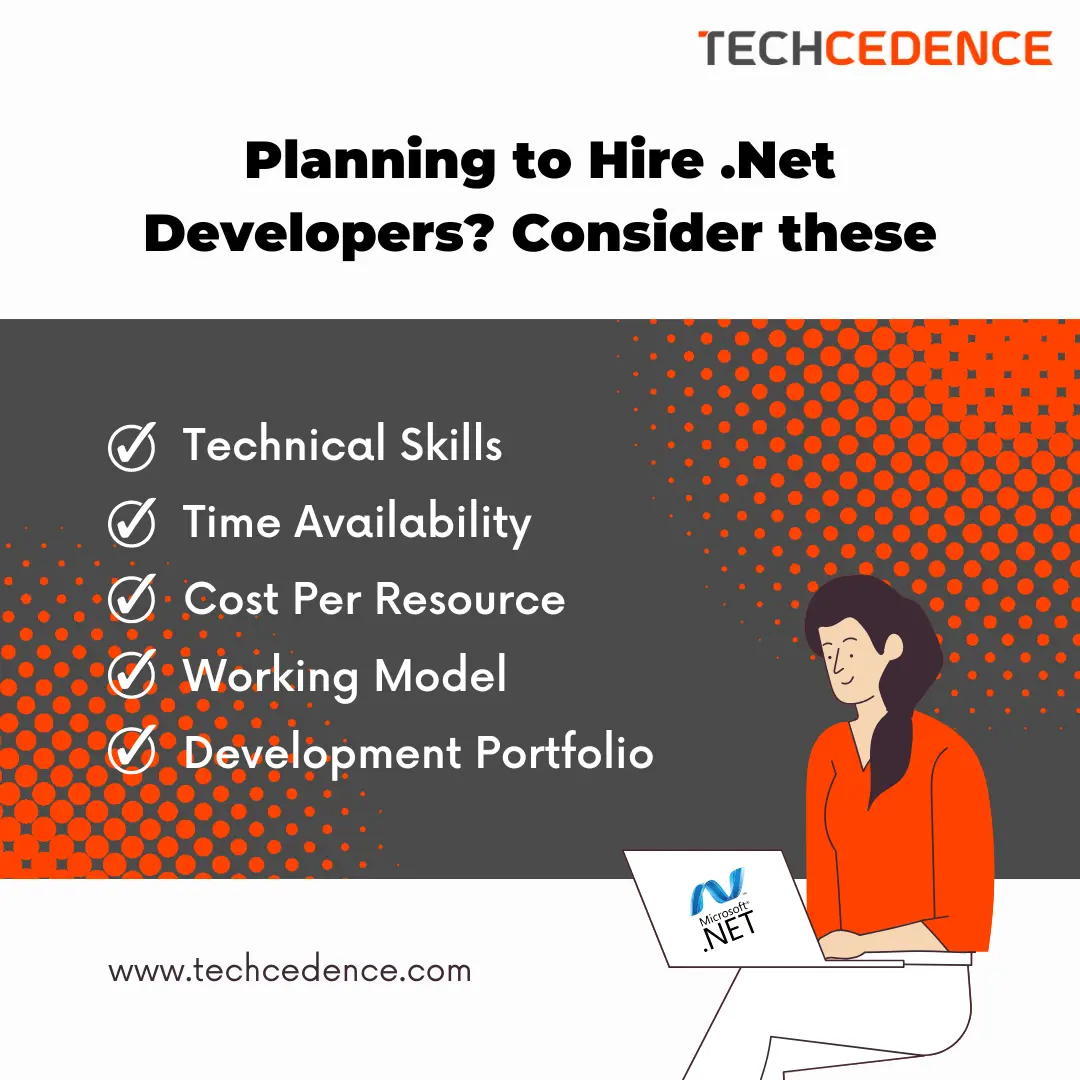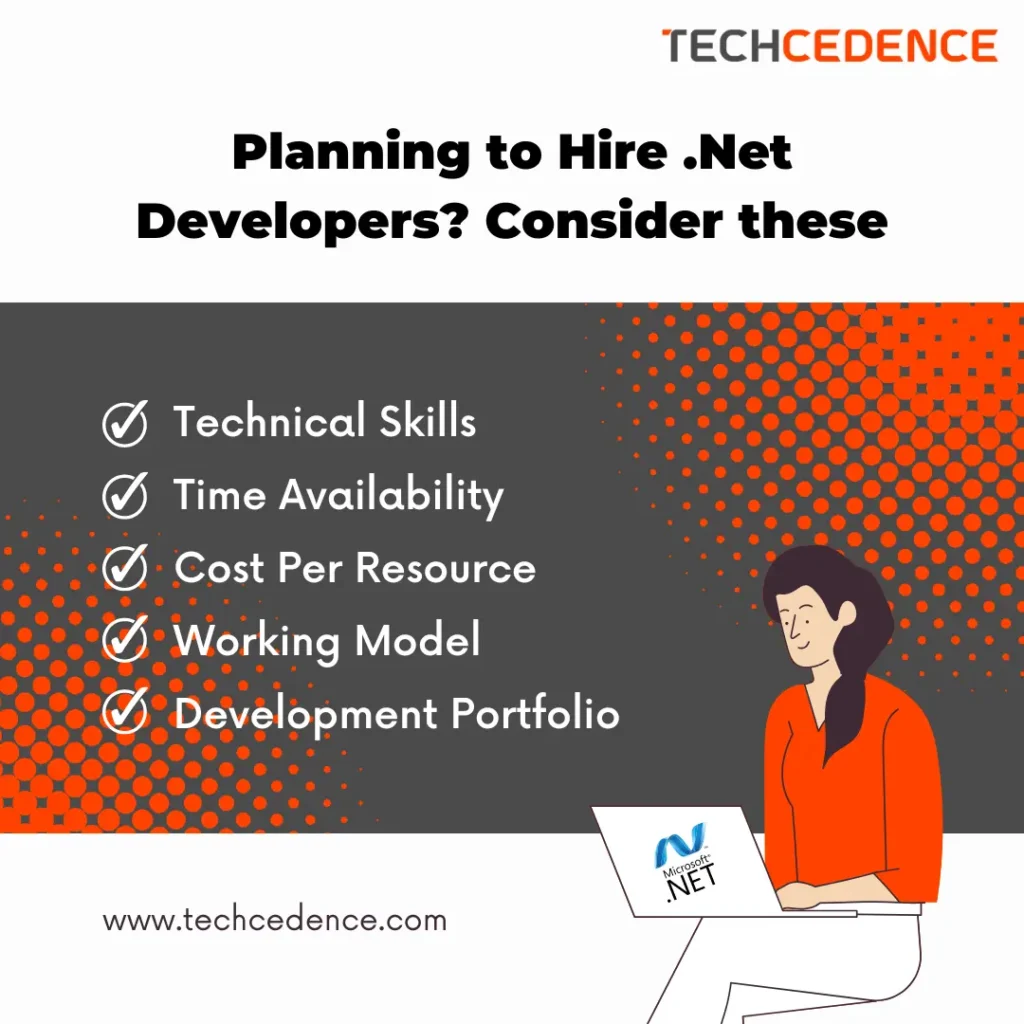 .NET developers should possess an extensive set of technical skills that include ASP.NET MVC, coding, proficiency in HTML, JavaScript, CSS, etc., programming languages like F#, VB.NET and C#, and databases like NoSQL and Oracle. In addition, soft skills like team-playing abilities, communication, time management, problem-solving approach, etc., also matter when choosing devoted .NET developers for app development.
Time availability is another significant concern. You must check the number of hours throughout the day that the team can dedicate to your project. Hiring .NET developers with full-time availability is more prudent. It incurs extra costs. But it is worth paying the extra resource fees, considering benefits like speed and constant communication.
Don't let this factor solely drive your decision. But ensure you compare the cost per resource offered by various .NET development companies. While not necessarily going for the lowest, weigh the cost against the talent set and the potential value to make a choice that lets you strike the right balance between budget and value.
Working Model (Remote or Onsite)
Having resources on site refers to better project control. But if you do not have enough space to accommodate the team, you may check if the .NET development company also offers a hybrid or completely remote working model. It will help you save a lot of costs. But it will also demand strict communication protocols and dedicated project control.
Inspect the professional portfolio of the development team. It will help you understand the .NET developers' potential, assess their capabilities and compute the value they can bring to your table. In addition, evaluating the developers on the aforementioned soft skills should also be part of your assessment process.
Techcedence Simplifies Hiring .NET Developers!
Hire the most dedicated and the best .NET developers through Techcedence! We boast an extensive talent pool of certified and seasoned .NET developers with expertise in developing websites and apps for multiple business domains which suit your project needs and evaluation criteria. Write to us at sales@techcedence.com to know more.